I'm embarrassed to admit that, before I interviewed him in 2009, I had no idea who Marvin Hamlisch was. I did my homework, of course, and learned all about his Emmy, Grammy, Oscar, Tony, Golden Globe, and Pulitzer in anticipation of our phone conversation about the score he wrote for Steven Soderbergh's The Informant!. The 65-year-old composer treated me like a pro, and gave me one of my earliest—and one of my best—interviews for Film Score Monthly Online.
When I heard his music for The Informant! the first time, I laughed out loud. Even without having seen the film, there was a joyous ridiculousness that bubbled over the brim of the score. "I'm a person who grew up really in love with the idea of a good melody," he told me. "And everything I write, even when I'm doing these ditties like in this film, they all basically have a melody you can hook onto. Sometimes I miss that in movies. I miss the element of a real, honest-to-god melody."
We talked about the variety in his career, which he said was just the perfect way of staving off boredom. "There is something very joyous when I'm proud of my career," he said, "that I could go from Chorus Line, to conducting for Barbara Streisand, to doing this Steven Soderbergh film, to conducting the Seattle Symphony tonight…It's like having a four-lane highway which is all going into a tunnel of one lane. The lane you are always going into will be music—but you can come at it from four different ways. That's what gives me, I think, the most joy."
Marvin was the principal pops conductor for six different symphony orchestras around the country. "I have enough mileage to go back and forth to anywhere a million times," he said. "I could go to Pluto tomorrow. It would be nice. I'd take economy."
Twice during the interview he told me to call him after I'd seen the movie. So I did. Alison and I saw The Informant! the following night, and I called him and chatted about it on the drive home. That was definitely a first.
I discovered he was coming to Tampa (where I was living at the time) for a pops concert, and decided to call and ask if we could possibly get together. He told me just to call him on the morning of the show. So I did, and we arranged to meet for lunch in St. Petersburg.
Alison and I met Marvin at the Westin Hotel where he was staying, and ate in the seafood restaurant there. He let us fire away with questions, and I asked about his songwriting process. He asked if, when I drove a car, I went the same familiar route to every place. I said yes. He said with music, especially playing the piano, there's a natural route to take, a familiar chord to always go to next. He said lately he'd been trying to avoid going to whatever that chord is. "If I'm on a G7," he said, "I'm trying to avoid going to C now."
Alison provided the feminine, non-geeky touch, and prompted Marvin to ramble wistfully about food and travel. He told us his favorite cities and countries in the world (he'd been just about everywhere)—the south of France, Sydney, Vancouver. If he was young, he said, he'd move to Australia—and he encouraged us to travel often and not worry about staying in inexpensive hotels.
I ordered a coffee after lunch, and he had a cappuccino. We lazily sat and talked for about an hour, and when the waiter brought the check Marvin took it and staunchly rested his arm on it while talking. As he opened the check holder I got out my wallet. He firmly told me, "Put your money away." As we walked out of the restaurant, I quickly asked if we could get a picture with him. The girl at the concierge desk took a (blurry) photo of the three of us on Alison's camera.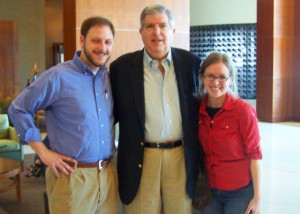 It wasn't much, my interaction with Marvin Hamlisch. But this talented, medaled legend took an interest in my opinion, treated me with respect, took me out to lunch, and even tried to help me find work. When he died yesterday I certainly didn't lose a friend—but it was also something not altogether different.