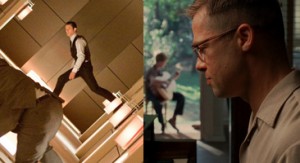 Last night I watched Inception again (it was only my second viewing). I was, once again, sucked headlong into Christopher Nolan's engrossing dream—my heart and mind fully engaged in the cinematic thrill ride. The film only improved on its second viewing, and I sat in awe of Nolan's imagination and its expert, artful execution.

I recently waxed grateful about Terrence Malick's The Tree of Life, a film of such a caliber that several critics praised it as the reason cinema exists. And while Inception is, in many ways, a crowd-pleasing summer blockbuster—replete with huge special effects, car chases, and bulleted ski sequences—where The Tree of Life is a quiet, poetic art film, I believe they share in common that laudatory comment.
For in no other medium could you achieve the alchemy of magic that these films concoct. While most films are novels that have sprung to life or simply more open-spaced stage plays, these two works rely on the unique combination of moving images, music, and effects achieved only in film. Both are non-linear, moving in directions and in the order of a deeper level of the mind. The Tree of Life travels into the deep recesses of memory—biased, half-remembered, elusive. Inception transports us into the equally slippery and half-remembered channel of our dreams. How do you tell a story that is not only about memories and dreams, but one that evokes the very nature and feeling of those things?
Through the miracle of cinema, these films do just that—one quietly, the other with blaring brass. After watching The Tree of Life I felt as if I had been washed in the memories and potent emotions of my childhood. When Inception ends, it is like waking from a deep, dream-filled sleep. A good book can certainly possess hypnotic qualities; theatre, music, and art carry the power to transport. But only in cinema can there occur this incredible chemical reaction created by music, performance, visual art, and words. And while many films inspire, delight, and move, The Tree of Life and Inception are in that rarified class of the medium: the reason film exists.